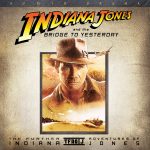 The wait is finally over as we proudly present the original radio drama, Indiana Jones and the Bridge to Yesterday! In the immediate aftermath of the second World War, Indiana Jones returns home from his time with the OSS, now weary of his daredevil past. But just when he contemplates hanging up his hat for good, an old nemesis re-emerges with a plot to not on only destroy the world's newly established peace, but also erase the last thirty years of history. In order to stop him Indy must journey into the heart of the legendary Devil's Triangle where he will decide to either wipe out the sins of the world, along with his own mistakes, or renew his journey and remember the adventure! [In Stereo]

Directed by Alex Levitsky & Tim Bungeroth.

Written by Keith Voss (Story), Tim Bungeroth (Screenplay) and Alex Levitsky (Radio Script).

Music by John Williams and arranged by Alex Levitsky.

A Raiders Radio Production in association with the IndyCast.
Podcast: Download (142.2MB)